Barrel Stave bowls and candles
---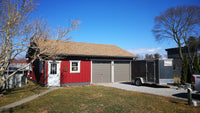 Visit us for your best selection
Our studio in Niagara-on-the-Lake is now open Thursday through Sunday, 10 am to 5 pm. Everything we make is one-of-a-kind, so come choose exactly the item you want.
You can also talk about a custom project or choose exactly the piece of wood you want from our inventory.
Click here for more information or to book an appointment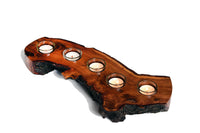 Check out our Orchard Finds ...
Check out our growing Orchard Finds collection of candles made from rescued Ontario wood including rare Niagara fruitwood and highly figured hardwoods.  We love "Charlie Brown" trees that other woodworkers ignore.
Click here to see our collection
We hope to see you later this year
With COVID-19 slowly subsiding, you can once again find us at major handcrafted shows. We've cut back to only the best and biggest shows, but you can always visit us at our studio in Niagara-on-the-Lake
check out our 2022 Show Schedule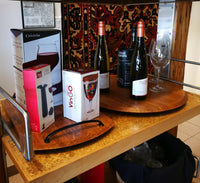 Plum Slabs Now Available!
Plum Slabs you can't find anywhere else!
You can now buy unfinished live-edge plum slabs for your own projects. We have a large selection of 10/4 slabs that have been vacuum-kiln dried to minimize cracking and twisting.
Each slab is incredibly unique, so you really have to come to our studio to pick out your favourite.
All are bark-on, and because each tree only gives up three or four slabs, the edges are angled and the two sides look quite different.
Suitable for small tables, charcuterie boards or other projects.
Pricing is $20 per board foot.
Click here to see a sample of what we have.