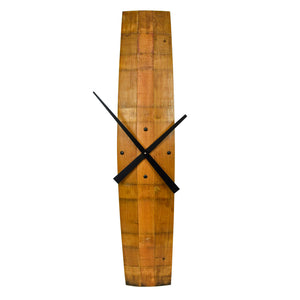 Large Wine Barrel Clock - Vertical
Regular price $158.00 Sale
This unique clock is made from several full wine barrel staves glued together.  A centre hole is drilled to accept the clock movement with 12 inch hands.  Dark bronze buttons mark the 12, 3 6 and 9 o'clock positions.
The front of the clock is a natural oak colour and the back side is coloured a deep purple from the red wine that the barrel held for years.  
The wood is hand finished with durable and beautiful glossy tung oil.
The clock is about 36 inches high, 8 inches wide, and stands about 3 inches from the wall. The colour varies with the type of wine and the age of the barrel.  The front of the clock is bowed slightly from the barrel shape.
This item includes a AAA battery.
This is an excellent gift for yourself or any wine enthusiast.
We also have available a smaller clocks made from a barrel top that you can find here.