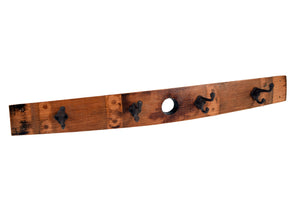 Wine Barrel Stave Coat Rack
Regular price $98.00 Sale
This unique coat rack is made from the top stave of a barrel that includes the bung hole and four cast iron double coat hooks.
The top stave is the most interesting stave in each barrel.  It is usually quite wide and includes the bung hole through which the barrel is filled and wine taken for tasting. Each barrel has six metal hoops that have two rivets, and the tradition among coopers (barrel makers) is to align the two rivets on each hoop on the bung stave.
Between the spilled wine and the impressions from the hoops and their rivets, this is the most visually interesting stave of each barrel. The colour on the front depends on how the barrel was stored.

I have preserved the character of the wood. With a graceful outward curve, the back of the board is coloured a deep purple from the red wine that the barrel held for years. The wood is hand finished with durable and beautiful glossy tung oil.

Each item is unique in its exact measurements and colours. Widths vary from 3 1/2 inches to 4 inches depending on the barrel maker, and lengths from 35 to 37 inches. 
There are two holes at each end drilled 32" inches apart. We recommend that you place the rack so that the mounting holes line up with wall studs and that you use 2 1/2 screws to make sure the rack is connected to the studs.
You can use drywall anchors or butterfly bolts to mount your rack into drywall, but make sure you do not overload the rack. Hanging several wet, heavy coats may pull the screws from the drywall.

This is an excellent gift for yourself or any wine enthusiast.