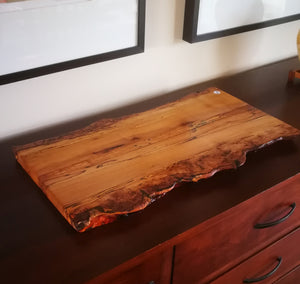 Spalted Maple Charcuterie Board #1
Regular price $178.00 Sale
This insane charcuterie board is made from spalted maple that has been salvaged from the forest floor.  It is very irregular in grain pattern and colour.
I have done my best to match the colour of the wood in the photographs, but it is hard to duplicate online the colours in the wood. The swirling grain and spalting pattern in unique to damaged wood like this.

Every board is unique because the trees were rotting over many years, causing the wood to change colour and black bands to form throughout it.  The edges are quite irregular and the grain is fantastic.
The board surface is slightly irregular because some parts are softer and slight dips formed during sanding.  Defects in the wood are filled with epoxy.
The charcuterie board is finished in multiple coats of food-safe tung oil.  The finish will last many years, and can be renewed by applying more tung oil available at most hardware stores.
Because this is natural wood, it may warp and bend over the year with changes in humidity.  The wood was dried in my kiln to 7% moisture content, so any seasonal changes should be limited.